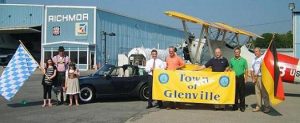 From left: Hannah, Chris and Bailey White; Town Supervisor Chris Koetzle; Event Chair David Hennel; Jim Valachovic and Dave Buono of Richmor Aviation; Heinz Rupport of German-American Club stand in front of a 1942 Boeing Stearman and a 1987 Porsche Carrera 911 Targa.
"Glenville Oktoberfest is a business and community sponsored event that gives everyone an opportunity to come out have fun and sample what Glenville has to offer. Our goal is to have this become an annual event, one that will develop into an established destination activity," said Glenville's Small Business Economic Development Committee Liaison and Town Councilman Sid Ramotar.
Admission and parking are free. The event includes live music, German foods and beer garden, cruise-in, fire truck pull competition, flag football games, children's activities, exhibitors and harvest specialties. The Dead Spartans, Alan Payette Band, Squeeze Play and Herbert and his Accord-a-Tones will perform throughout the day on the grounds and in the Richmor Aviation hangar. The German-American Club will serve German sausages and salads, beer, wine and soft drinks. The cruise-in welcomes all specialty cars and motorcycles. Those interested can register by contacting Rick DiCresce 518.248.0626. Vendors and exhibitors interested in participating can download an application from www.glenvilleoktoberfest.com.
"Richmor Aviation welcomes the chance to host our neighboring businesses and the public at large," said CFO Jim Valachovic. "We're looking forward to having our hangar filled with the delicious smells of German food, lively German music, laughter and camaraderie."
"The Glenville Business and Professional Association (GBPA) is a collaborative of Glenville businesses that have created a network of support and resources for the betterment of the business and the community," said GBPA President Kelly Olson of Olson Signs. "We're excited to be co-hosting this community event. What a great opportunity to get our local professionals and Capital Region residents together to celebrate all the wonderful things Glenville has to offer."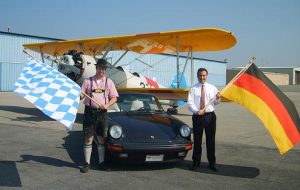 The German-American Club's Chris White and Glenville Town Supervisor Chris Koetzle stand in front of a 1942 Boeing Stearman and a 1987 Porsche Carrera
911 Targa.
The Chamber of Schenectady County, founded in 1924, is a network of more than 1,000 business organizations serving more than 50,000 employees. Its mission is to be a catalyst for economic growth for its members and the community, and its vision is to advance a globally competitive, innovative economy to achieve sustainability, growth and prosperity.